A majestic ash bites the dust
Mortally wounded and posing a grave danger to life and property,
this handsome tree was carefully removed by

Jansen Tree Experts


on Friday, November 30, 2007. It was a beautiful day
and a sad, fascinating process to watch.
(Scroll down for the link to my YouTube videos of this memorable day)


Having discovered a wide and deep fissure in an 80-foot ash along my property line, I knew the tree needed to come down -- fast!


Jansen Tree Experts

arrived right on time with a truck-mounted crane, huge chipper, and a capable, courteous crew.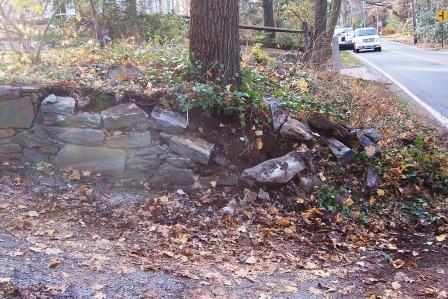 Being careful wasn't enough, as the huge crane truck demolished a section of my wall on its way up the drive. The stonework was fixed promptly.
| | |
| --- | --- |
| | |
| Starting at the top, sections were sawed and lowered to the ground with precision. | I was sad to see this beautiful tree come down, but watching the process was engrossing. |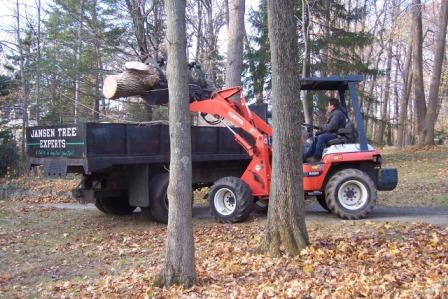 After I got all the wood I could use, the rest was loaded on a flatbed and hauled away. Let's hope it brings light and warmth to empty fireplaces.

| | |
| --- | --- |
| | |
| With the tree nearly down, the crew began the cleanup process. | One final cut and a tree weighing 20 tons was reduced to a modest stump. |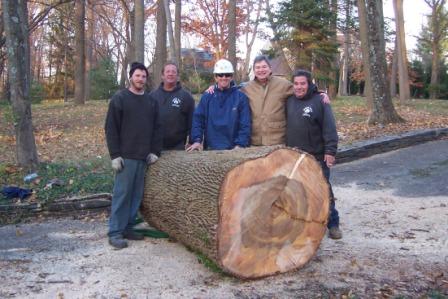 Ken Jansen (center) and his crew couldn't have been nicer.
Click here to reach the

Jansen Tree Experts

website.


Click here
to visit my

YouTube

playlist,
and then click on the link for
"Losing my Ash"
to see short clips of the day.
Click here
to return to my homepage
Encouraging words are always welcome at
johndallasbowers@verizon.net