The Bowers Family - circa 1906
In February 1988, my father, E. Stanley Bowers, Jr., then 80,

identified the members of his family shown in this photograph.

He estimated the portrait date as 1906, a year before he was born.
Front row, left to right: Clara (Bowers) Sines, b.1868 - d.1935*

Elizabeth Hosfeld Bowers, my dad's grandmother, d.1912*

John L. Bowers, my dad's grandfather, b.1840 - d.1910*; Agnes (Bowers) Wall, b.1866 - d.1949

Back row, left to right: Charles Bowers, b.1884 - d.1955; J. Harry Bowers, b.1873 - d.1929

Frank E. Bowers, b.1878 - d.1950; Albert Bowers, b.1875 - d.1945*

E. Stanley Bowers, b.1880 - d.1952; William Bowers, b.1870 - d.1940*
Death dates followed by an asterisk (*) are approximate.
Family Facts

The Bowers family arrived in the United States from Wittenberg, Germany in 1751.

Our roots in Philadelphia predate the Civil War, a conflict in which John L. Bowers was wounded.

An 1850 census indicates that William and Agnes Bowers, 44 and 43 respectively,

lived with their eight children, including my great-grandfather, John L. Bowers,

in the Northern Liberties section of Philadelphia.

William was identified as a native of Pennsylvania and was listed as a "coal dealer."

My dad, E. Stanley Bowers, Jr., was born in 1907 in Brooklyn during his father's two-year tenure

as head of Continental Mills' New York office.

He succeeded his father as co-principal of the mill, a position he held until it was sold in the early 1960's.

My dad died in Ocean City, NJ on Tuesday, 5/26/92, the day after Memorial Day.

My mother, Marjorie Bowers, died on Friday, 12/5/03, a month shy of her 94th birthday.
Family Occupations

John was a Philadelphia City Tax Officer

Harry and Frank: Wall & Ochs, Opticians (Frank later co-founded Doyle & Bowers)

Stanley and Charles: Continental Mills (Stanley was a co-principal)

William and Albert: Phosphor & Bronze (metal fabricators)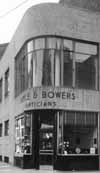 Click here to return to my home page

Encouraging words are always welcome at

johndallasbowers@verizon.net