A Christmas reconnection - December 16, 2005
Ron and Karin DeGraw met me at Bryn Mawr's renowned Yangming
for a luscious and lingering lunch filled with laughter and great conversation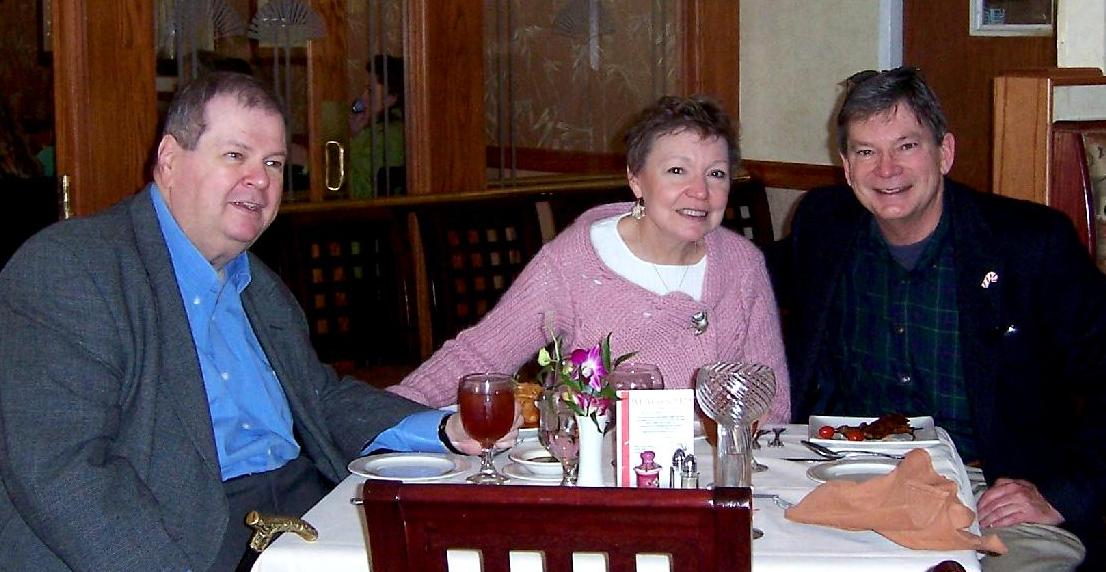 Ron and I were classmates and close friends at Upper Darby High School.
Over a delicious lunch on a gorgeous day, we caught up on ten years of life.
Ron died January 30, 2006 from complications following a stroke. His obituary, published February 4, 2006 in

The Inquirer

, appears below.
Ronald DeGraw/SEPTA official, 63

Ronald DeGraw, 63, of King of Prussia, a retired SEPTA official and transportation expert, died Monday at Paoli Hospital from complications following a stroke.
In 1970, Mr. DeGraw joined SEPTA as director of development for its new suburban Red Arrow Division, now known as the Victory Division. His father had worked for the Philadelphia & Western Railway, which became part of the Red Arrow line.
At Red Arrow he developed projects to make suburb-to-suburb commutes more user-friendly and worked to convince county governments of the importance of funding good public transit. In 1975, he helped organize a conference on Light Rail Transit sponsored by the Transportation Research Board. The ideas generated at the meeting inspired the eventual establishment of light-rail systems in two dozen U.S. cities.
Since retiring in 1996 as SEPTA's chief of long-range planning, he was a transportation consultant and served on the boards of the Transportation Management Associations of Bucks County and of Greater Chester County and Valley Forge.
He lectured and wrote books and articles on the history of Philadelphia transit systems and had completed an as-yet unpublished book on the Philadelphia & Western Railway. He served on the board of Upper Merion Library.
Mr. DeGraw grew up in Upper Darby and graduated from Upper Darby High School. He earned a bachelor's degree from Temple University in 1965 while working part time at the Philadelphia Evening Bulletin. He then wrote transit stories for The Inquirer before joining SEPTA.
He is survived by his wife of 20 years, Karin Hofmann DeGraw; stepson Robert Lance Jr.; and a brother.
A memorial service will be at 2 p.m. today at Wayne United Methodist Church, 210 South Wayne Ave., Wayne, Pa.
Click here to return to my homepage
Encouraging words are always welcome at
johndallasbowers@verizon.net