Trapshooting on Easter Saturday 2008

Jonathan Weaver, along with his son, David, and his friend, Jenny,
joined me at Delaware County Field & Stream on Saturday, March 22, 2008
for a couple of hours of knocking clay targets out of the sky with my Beretta 12-gauge.

Afterwards, we repaired to the pistol range to try out
my .22 Colt Woodsman and .38 Smith & Wesson snub-nose.
My first trapshooting videos, courtesy of my friend, Jon
| | |
| --- | --- |
| ROUND ONE | ROUND TWO |
| | |
| This low-resolution video frame shows the clay pigeon milliseconds after David Weaver launched the target from the trap. | This side view of the trap release shows the target, now a blur, just an instant before its launch. |
| | |
| A moment later, it has become a small dot downrange, floating just above the barrel's end as I look down the comb. Time to pull the trigger. | With the clay pigeon contrasted against the afternoon sky and about to begin its downward arc, the moment of truth has arrived. |
| | |
| An ounce of #8 shot in a choked pattern 30 inches across at the point of impact reduces the target to dust. Yes, this sport is addictive. | Split cleanly in two, the target has been dispatched, prompting a very pleasant endorphin rush and a sense of anticipation for the next shot. |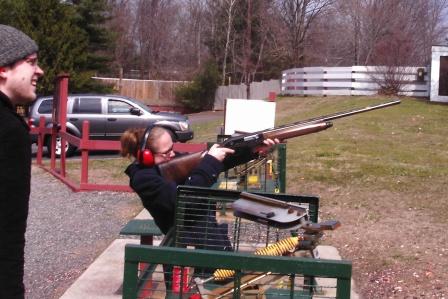 Jenny appeared overmatched by the Beretta -- until she pulverized her first five targets in a row. What a shooting debut! Dave looks on admiringly.

Click here
to return to my homepage
Encouraging words are always welcome at
johndallasbowers@verizon.net