John Dallas Hallahan, M.D.

September 26, 1917 – December 28, 2010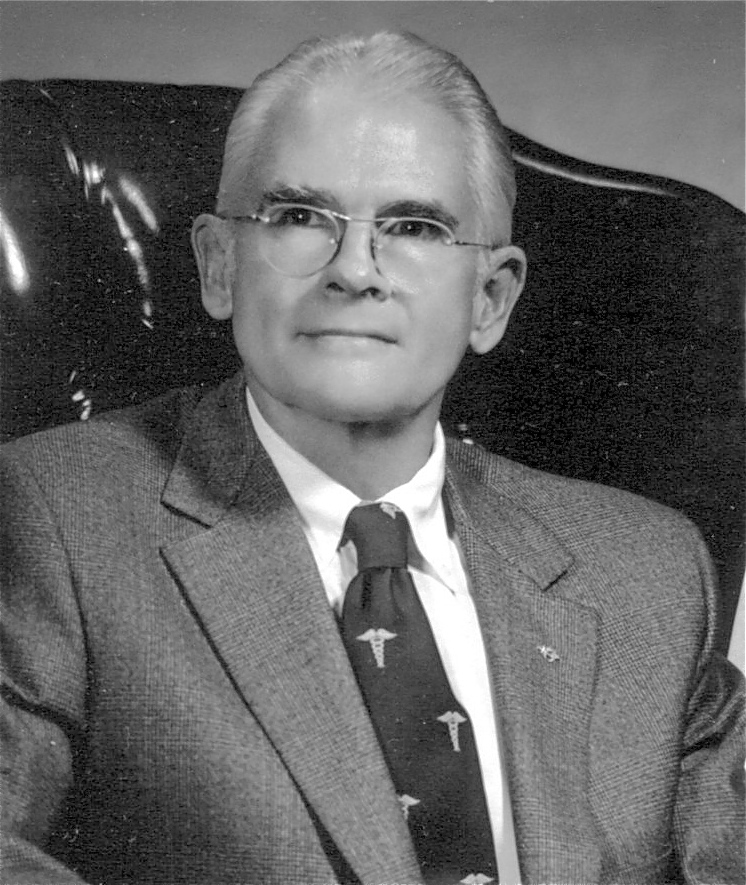 (portrait taken at his retirement as Director of Medicine
at Riddle Hospital in 1977)

John Dallas Hallahan, my only and much beloved uncle,
was a gifted physician and significant mentor, especially during my early years.
The following is the obituary written by his daughter, Marjorie,
and published by the Bringhurst Funeral Home.

Dr. John D. Hallahan died at his home in Media on Tuesday, December 28th. He was 93 years old. His wife of 64 years, Marion Laskey Hallahan, died in February of 2009.
Dr. Hallahan was born in Lansdowne, PA on September 26, 1917. It was during his grade school years he began studying biology which continued through his graduation from Haverford College. He went on to study medicine at the University of Pennsylvania and graduated from Temple in 1941 with his medical degree.
He served in the United States Navy both domestically and overseas as an Assistant Surgeon and a Camp Physician and Surgeon. It was during this time he married Marion Laskey, who was in service with the Red Cross.
His love of travel began during the summer of 1938 when he traveled throughout Europe by every means of transportation available. He and Marion traveled the world extensively and had many collections to show from their journeys. They both had a mutual interest in Natural History and took camping expeditions to exotic locals like Madagascar and Tasmania. Together they enjoyed mountain climbing expeditions. In 1976, they survived a blizzard atop Mauna Loa, Hawaii. They visited all 50 states and the majority of our majestic National Parks. As amateur entomologists and geologists, their collections, photographs and lectures on their travels have been used by museums for demonstrations.
After his release from the Navy, he practiced Internal Medicine as well as received his Masters Degree in Science from the University of Pennsylvania. It was after this when he established a private practice in internal medicine in Media, where he and Marion would live out their lives and raise their two children, son William Laskey Hallahan and Marjorie Hallahan Crawford.
During his lifetime, Dr. Hallahan received many accolades, awards, positions, and publications, as well as being involved with many organizations. He was a learned man who enjoyed sharing his knowledge with others and learning new things. He was totally engaged in life and enjoyed nature to its core.
In 1959, Dr. Hallahan began his long association with what would become Riddle Memorial Hospital. He first served on the Planning Advisory Committee and two years later was appointed Director of the Division of Medicine. Riddle Memorial opened in 1963 with Dr. Hallahan continuing his Director role - a position he would hold for fourteen years until his resignation in 1977. In 1978 he was appointed to the Courtesy Staff of the hospital.
It was in retirement in 1994 when he decided to, in his words, "...write an account of my life since it has been an especially interesting and somewhat charmed one with many hazards in the way that I was determined to overcome..." His book, A Life to Remember, utilized the yearly records he had been recording since 1936. Meant as a gift to his family, it highlights his time working on a cruise ship, his escapades as a camp counselor, bee keeping, his family roots, his adventures all over the world, as well as astonishing successes in the medical world.
While one can read the above and see what an accomplished man of science and medicine he was, Dr. Hallahan was a wonderful husband and father. He had a great sense of humor and a gift for making friends and keeping them. He will be painfully missed by his children, their spouses, his five grandchildren and his great-grandson.
He was most fortunate to be cared for not only by a wonderful aide Jasmin Allen, but also by his grandson Sterling Crawford, III and his wife Kim. This allowed Dr. Hallahan to fulfill his wish to stay in his home and also offered him the chance to spend almost every day with his great-grandson, Sterling Crawford, IV.
He was a remarkable man who gave so much throughout his life and all of us are better off having known him. In lieu of flowers, memorial contributions in his memory may be made to: The Riddle HealthCare Foundation, 1068 west Baltimore Pike, Media, PA 19063. Memorial Services will be at 10:00 AM on Tuesday, January 4, 2011 at the Chapel of Peace at West Laurel Hill Cemetery, 225 Belmont Ave., Bala Cynwyd, PA under the direction of BRINGHURST FUNERAL HOME AT WEST LAUREL HILL CEMETERY.
Click here to return to my home page


Encouraging words are always welcome at
johndallasbowers@verizon.net