Camp Mitigwa
Rangeley, Maine (1955 & 1956)
Summer memories, musical and otherwise, from my favorite camp

Click here to see a page of great photos supplied by Carey Herdman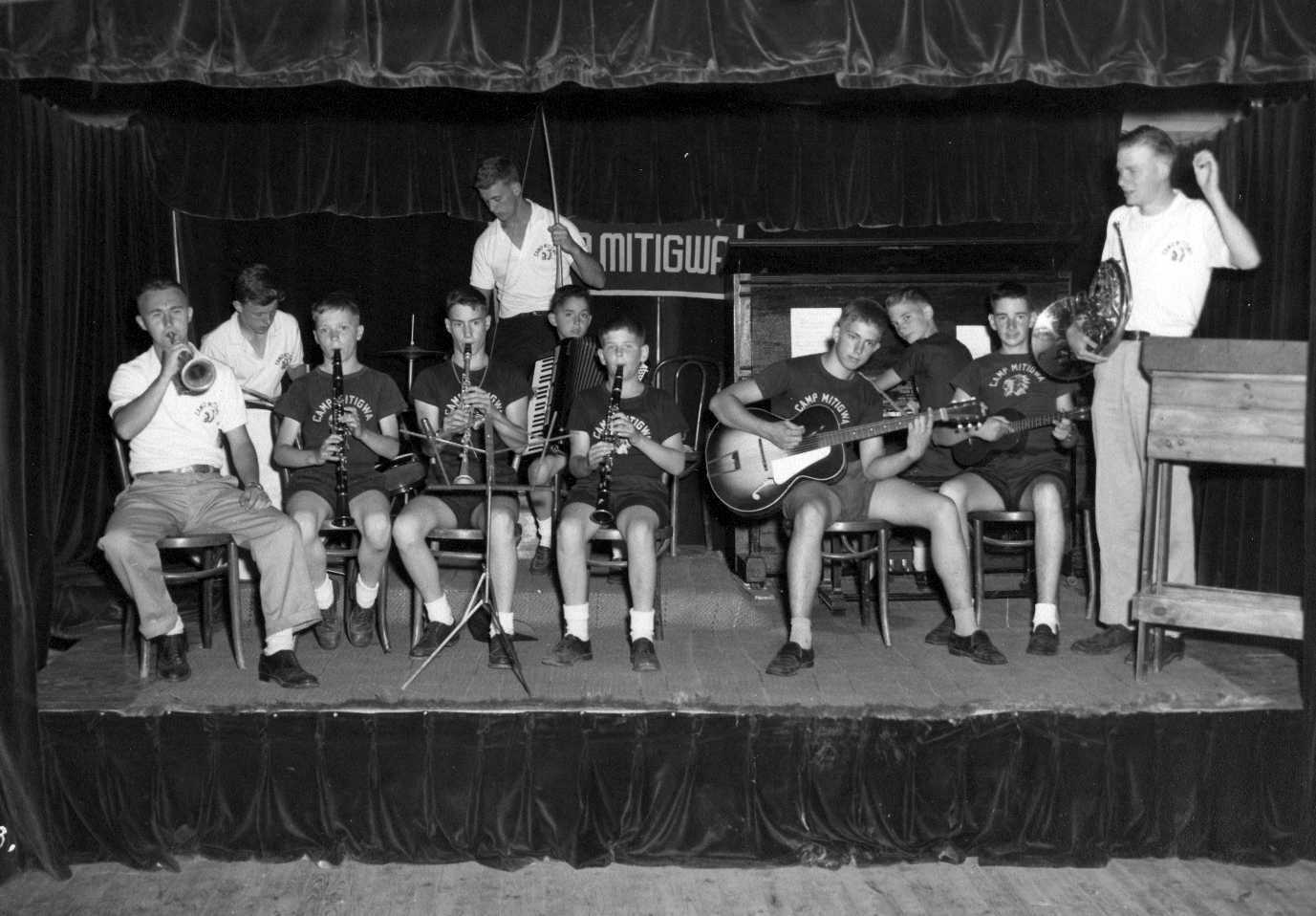 Tickling the ivories at an early musical gig (1956). I think you can imagine what this assortment of instruments sounded like.
Chet Cornog (sp?) is the counselor standing in the back playing the washtub bass. Nice guy. Right in front of him, playing the accordion, is Bobby Bellezza, who apparently developed into an accomplished jazz pianist. And sitting in front of Bobby, playing the clarinet, is Glen Yates, the fine fellow who provided the most recent round of photo identifications (thanks, Glen!). His brother, Don, was a counselor that year, and can be seen in the large camp photo below.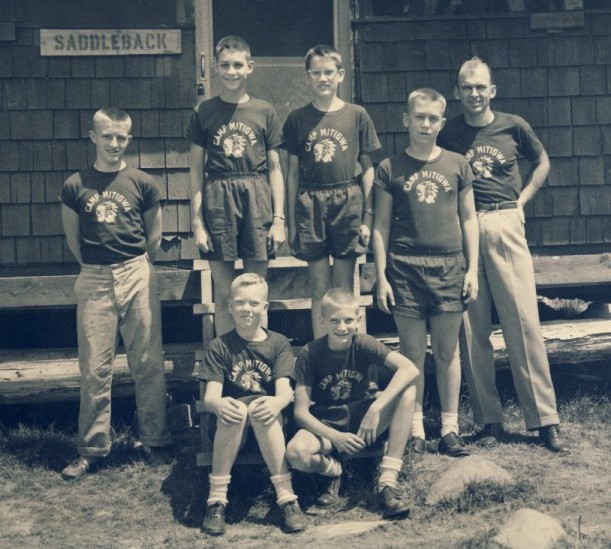 These are my cabin mates from 1955. George Morse (right) was our counselor.
Sitting next to me is Cliff Terry. Directly in back of him is Jay Muehling.
Directly in back of me is Dick Davidson (a.k.a. "Webster," because of his estimable vocabulary).
The rest have faded in my memory.
If you recognize yourself (or anyone else), please click here to send me an email.

Note: to read about George Morse's interesting life,
click here to download a PDF version of his obituary,
thoughtfully provided by Jennifer Hilton, whose father, Bob,
became head counselor in 1956, my final summer at Mitigwa.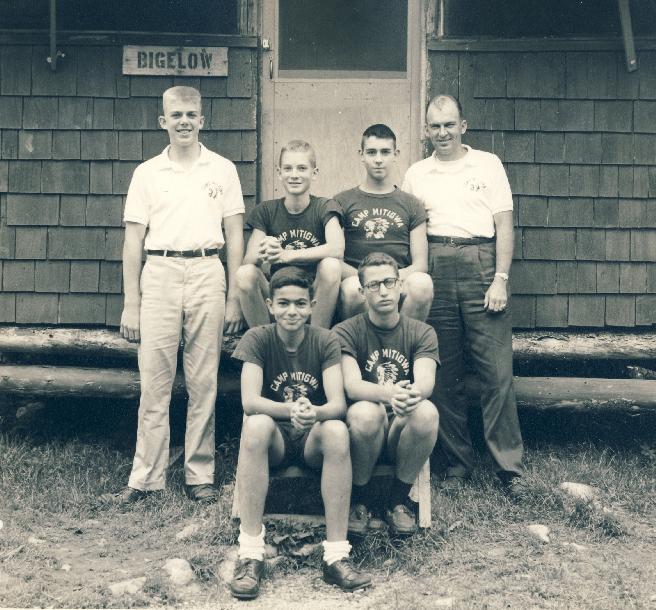 Here's my cabin in 1956. Once again, except for George Morse (top right), Jay Muehling (next to me),
and Don Bellezza (in front of me), the other names have retreated to an inaccessible part of my brain.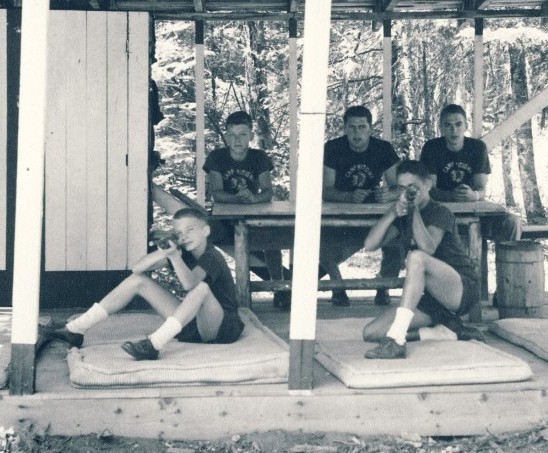 Here I am (left) at age 14, demonstrating one of the two NRA-approved
sitting positions during riflery practice. It looks like I have a pretty good bead on the camera,
which, of course, violates one of the cardinal rules of the range:
never point your gun at something (or someone) you don't plan to shoot.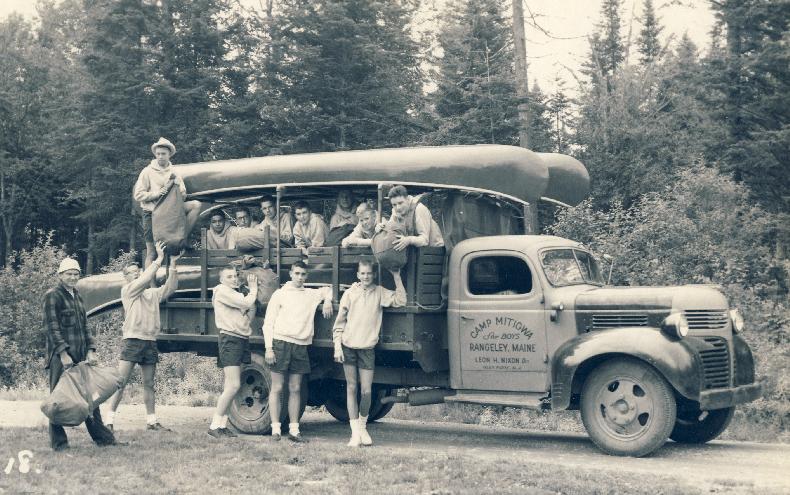 Here we are, ready to embark on an extended and rather rugged canoe trip
traversing the beautiful Rangeley chain of lakes, including the famous Mooselookmeguntic.





This is our complete camp photograph, taken in July 1955.
You'll find me in the third row up, eleventh one in from the left, looking awfully young for thirteen.
The blond buzz-cut, creating the impression of baldness, certainly didn't help.
My cousin, Bill Hallahan, is in the second row up, the third in from the right.
He no longer remembers what was more interesting than looking at the camera.

If you see yourself in this picture, please send me an email
indicating where you are, both in life and in the photo.
(A tip of the hat to Dave Henshaw, back row, second from the left,
who identified "Webster" Davidson and Chet Cornog.
And another word of thanks to Mitigwa alum Chris Lowell,
who spotted his favorite counselor, Chip Morgan, 14th in on the top row.)

Update below submitted by Glen Yates, August 2010
Front row (left to right): 1. Little boy (unknown); 2. Richard (Ricky) Biunno; 3. Edward (Ned) Ames;
4. Walter (Butch) Mitchell; 5. Marc Ryan; 6. Michael Brothers; 7, 8, 9. (unknown); 10. Chris Terry;
11. Bobby Bellezza; 12. through 17. (unknown). Fourth row, fourth from the right: Nicky Van Tassel.
Top row, seventh from the left: Don Yates, brother of Glen Yates.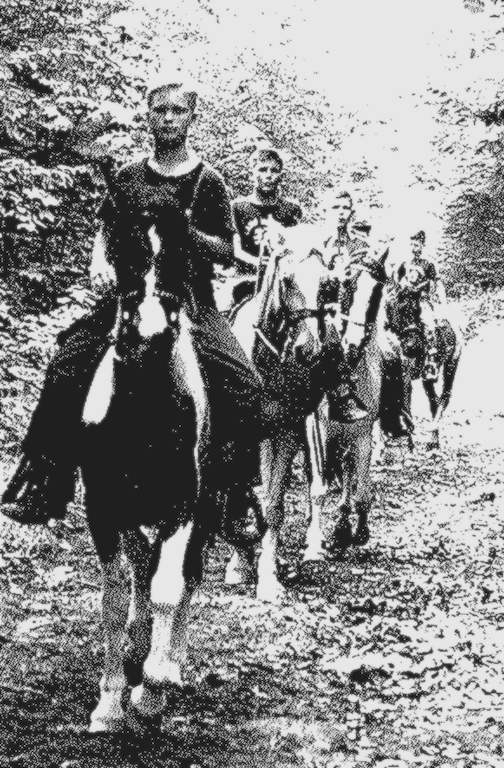 Brandon De Wilde (on the lead horse) had received an Oscar nomination
for his role as Joey in the hit movie "Shane" (starring Alan Ladd) in 1953,
five years before this photo was taken. But at Mitigwa, he was just another camper.

His died at 30 in a tragic accident when the camper van he was driving
hit a parked car. He was on his way to the hospital at the time to visit his wife.

Click here (or on his photo) to read his biography on IMDb.

Even better, click here to visit a beautifully constructed remembrance website.

(Glen Yates, who supplied this great shot, is riding directly behind Brandon.)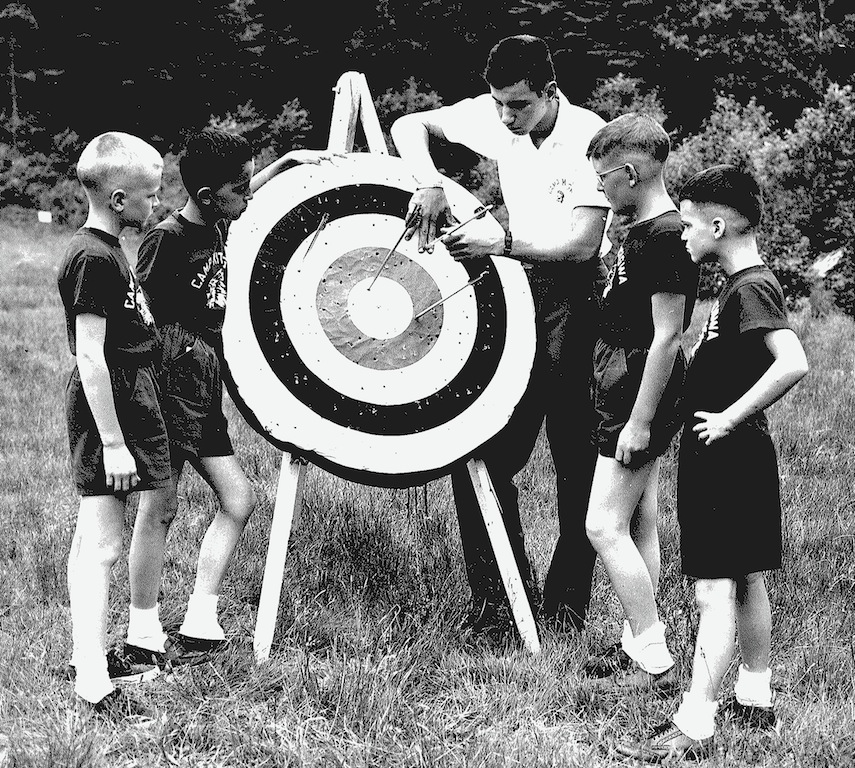 My cousin, Bill Hallahan (left), still enjoys archery and goes bow hunting for deer.

Remember: if you have a comment, can identify anyone in these pictures,
or have photos of your own you'd like me to post, click here to send me an email.

Click here to return to my home page